Offering Virtual Assistance for Internet Marketers, Authors, Speakers and Coaches
Your Cyber Office
We're out-of-this-world! … but don't worry, the light is always on in Your Cyber Office.
Meet our Featured Author …
JoAnn Kairys is an award-winning author and illustrator of children's books.  Her goal is to ensure that children across the globe have fun learning while reading her stories and will want to read them over and over again!
* Her stories celebrate young children's magical, unbounded imagination.
* She honors the rich cultural diversity of our children's heritage by exploring unique and universal themes.
* All of her books help make learning about science and nature fun, with information from top experts.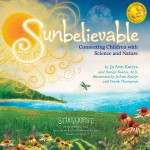 JoAnn's first book won the MOM'S CHOICE AWARD 2012! Sunbelievable is a humorous, educational/science children's picture book about the Sun for ages 4-8. Does the Sun ride roller coasters? Teach fireflies to shine? Take bubble baths when eating pizza?
To help her younger sister Leen fall asleep at bedtime, YaYa tells her about the Sun's amazing exploits. Skeptical Leen challenges YaYa's tales and invents her own hilarious twists and surprises. Together, they create not only a wildly funny story, but also discover the power of shared imagination.
The illustration style, using digital photo collage, features real children whose dialogue unfolds in brilliant, magical landscapes. An educational piece with facts about the real Sun is contributed by NASA's Chief Technologist.
Sunbelievable is uniquely geared toward young readers, helping them connect storytelling with science and nature. If the Sun can ride roller coasters, anything is possible!